BetDSI Racebook Review
Today's best horse players share one thing in common: they demand the best value for their wagering dollars. BetDSI Racebook offers one of the most generous rebate programs in the industry, top-notch customer service, and a user-friendly wagering platform that gives players the convenience of betting from a mobile device. BetDSI offers wagering on all major thoroughbred tracks and is not connected to any pari-mutual pools. From cheap claiming races, to elite stakes-level competition, BetDSI offers wagering at over 100 different tracks.
Many wagering sites restrict their welcome bonus to the sportsbook, but BetDSI's bonus includes horseplayers as well. - P. Franklin
BetDSI Racebook: In a Nutshell
100% Bonus – A new account deposit of just $50 is enough to trigger a 100% Welcome Bonus for horseplayers.

Cash Back – Up to 8% cash back on all racing wagers by volume, paid out every day.

Refer-A-Friend – Tell a friend about BetDSI, and when they open an account with a minimum of $50, you get a 20% referral bonus, up to $300.
Review of Horse Betting at BetDSI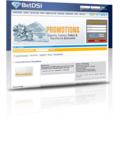 Along with the ease and convenience of betting from home, BetDSI allows its players to place bets right up to post time. In addition, BetDSI tracks and tabulates all wagers made, and credits all rebates earned daily. Players can make all of the same bets they would make at the track including the full array of exotic bets.
Customer Service

BetDSI customer service is among the best in the business. As a customer-focused gaming operator, BetDSI has one of the most easy-to-use gaming interfaces on the web and serves clients in more than 140 countries. For three consecutive years BetDSI has earned an SBR A+ rating as well as a 99% approval rating from Bang the Book.

Loyalty Program

Open an account at BetDSI with a minimum $300 deposit, and you're automatically entered in the Loyalty Program where you can redeem points for cash back, gift cards, merchandse and more. The rewards points program is run at three different levels, Gold, Platinum and Diamond. All account holders start at the Gold level, up to an accumulated 29,900 Bet Points in 12 months. Over 30,000 Bet Points accumulated puts you at the Platinum Level, and over 300,000 Bet Points puts you at the Diamond level, with the rewards on offer increasing at each level.

Mobile Betting

BetDSI has one of the most complete mobile betting platforms around, allowing you to access your account and wager from anywhere at any time using an Apple device (IPhone, ITouch or IPad), Blackberry or Android smartphone. From the convenience of your mobile device you can check live racing odds, make a wager, check your results and wagering history, and redeem Bet Points. You also have the option whether to download the wagering app or access your account without a download.
BetDSI offers a...
...100% bonus on your 1st Deposit!
Make a minimum deposit of $50 and get your sign up bonus instantly!
Deposit & Claim Bonus!